2023 Retreat Dates
AUGUST 7-14
AUGUST 20-27
SEPTEMBER 1-8
SEPTEMBER 16-23
OCTOBER 26 – NOV. 2 *Option to add 3rd ceremony
NOVEMBER 9-16
DECEMBER 1-8
2024 Retreat Dates
JANUARY 10-17 *Option to add 3rd ceremony
JANUARY 24-31
FEBRUARY 5-12 
FEBRUARY 20-27
MARCH 3-10
MARCH 15-22
APRIL 6-13
APRIL 19-26
MAY 2-9 *Private Retreat
MAY 21-28
JUNE 4-11
AUGUST 3-10
AUGUST 19-26 *Option to add 3rd ceremony
SEPTEMBER 3-10
SEPTEMBER 18-25
OCTOBER 2-9
OCTOBER 15-22
NOVEMBER 1-8
NOVEMBER 15-22 *Option to add 3rd ceremony
DECEMBER 4-11
Explore your highest Potential
Our all-inclusive Iboga plant medicine retreats are offered at a peaceful, private center near Paquera in the southern area of the Nicoya peninsula, Costa Rica.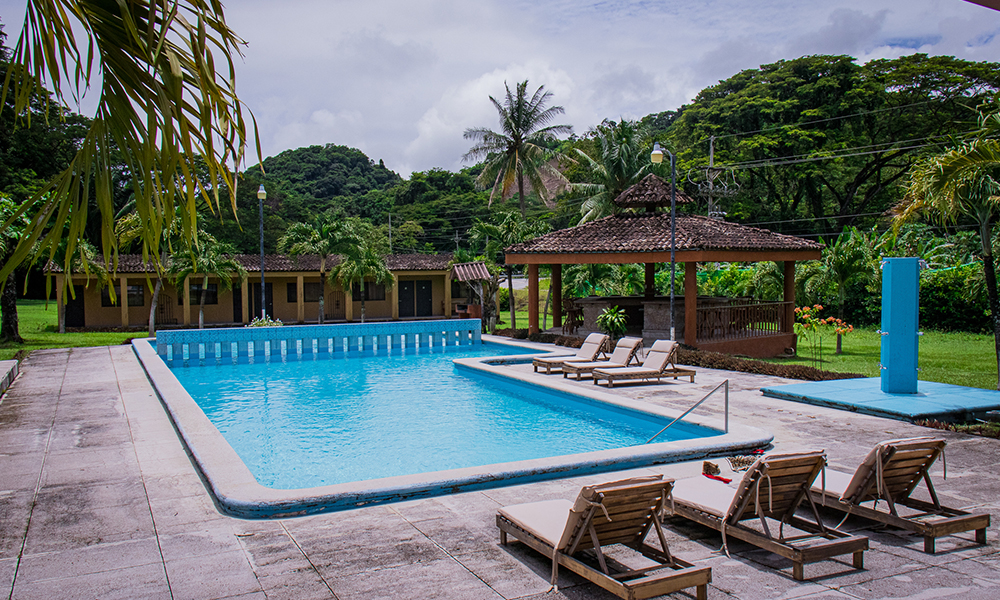 Retreat Schedule Example
Day 1 – Arrival
Guests arrive between 2:30 – 3 pm
4 – 4:45 pm Space Orientation
5:00 pm Dinner
7:00 pm Night tea
7 – 8:30 pm Bwiti Orientation
Day 2 – Ceremony Day
7:30 am Yoga
8:30 am Breakfast
9 am – noon Optional Massage & Spa Services
1:00 pm Lunch
2 – 3:30 pm Medicine Navigation Talk
6:00 pm Medical Check In
8:00 pm Ceremony (approximately)
Day 3 – Discovery Day
*No cell phone or devices on this day & night
9:00 am Coconuts
10:00 am Fruits
12:00 pm Broth
12:00 pm Lunch for Guests (if you feel ready)
5:00 pm Dinner
6:00 pm Night Tea
Day 4 – Integration Day
7:30 am Breakfast
9 am – noon Optional Massage & Spa Services
12:00 pm Lunch
2:30 pm Spiritual Showers
5:00 pm Dinner
7:00 pm Night Tea & Integration Circle
Day 5 – Ceremony Day
7:30 am Yoga
8:30 am Breakfast
9 am – noon Optional Massage & Spa Services
1:00 pm Lunch
6:00 pm Medical Check In
8:00pm Ceremony (approximately)
Day 6 – Discovery Day
*No cell phone or devices on this day & night
9:00 am Coconuts
10:00 am Fruits
12:00 pm Broth
12:30 pm Lunch (if you feel ready)
5:00 pm Dinner
6:00 pm Night Tea
Day 7 – Integration Day
7:30 am Breakfast
9 am – noon Optional Massage & Spa Services
12:00 pm Lunch
1:30 pm Beach or Outing
5:00 pm Dinner
7:00 pm Night Tea & Integration Circle
Day 8 – Departure
7:30 am Breakfast
YOUR TRANSFORMATIONAL JOURNEY
2 Traditional Bwiti healing ceremonies with an opportunity to experience the Holy Root
Sustainably & ceremonially harvested pure medicine from mature, wild plants
Bwiti initiated & trained medicine facilitators
24/7 qualified team support
High staff-to-guest ratio
Intimate group sizes limited to 6-10 guests
One-on-one Bwiti counsel session pre-retreat with lead facilitator
One-on-one comprehensive, personalized medical screening & preparation
24/7 expert medical support on site the entire duration that the medicine is active
Beautiful accommodations at a private center
Private pool overlooking a tranquil view of lush jungle forest
Gourmet, healthy, gluten-free, primarily organic meals with accommodation for individual dietary needs
Traditional Bwiti River spiritual shower ceremony to help release the past that no longer serves and to call in the desires of the soul
One visit offsite to a local beach or nature reserve nearby
All-levels, trauma-informed yoga + meditation with a certified yoga teacher
Preparation & integration support circles onsite
Creative arts integration station with a variety of supplies
Private, professional retreat shuttle transport to/from LIR airport
Professional massage & spa services with organic products available on-site (extra cost)
Nearest medical center 20 minutes away
The signature SoulCentro Preparation "Play Book" filled with preparation information, questions, and projects
The signature SoulCentro Integration "Play Book" is filled with integrative information, questions, and projects
One-on-one integration session with a lead facilitator post-retreat
Complimentary monthly Bwiti "Fire Talk" online integration call for all past retreat guests, to help stay connected to the medicine.

* These retreats are for the purpose of psycho-spiritual journeys only and not for acute drug or medication detoxes. However, those struggling with substance abuse or medication dependency can still request a consultation to discuss a personalized preliminary detox and medical preparation plan. We have learned: The "cleaner" one comes to the Iboga medicine, the more effective, safe, fruitful, long-lasting, and integrated the results can be.
The Sanctuary
Our Iboga plant medicine retreats are offered at a peaceful, private center near Paquera in the southern area of the Nicoya peninsula, Costa Rica. Enjoy the lush tropical environment, fresh air, quietude, sunshine, gulf ocean views, and local pristine beaches. Wildlife abounds and enchants daily: monkeys, iguanas, butterflies, and a virtual symphony of birds. A beautiful pool overlooks a tranquil jungle forest. A gentle walking trail on the property leads to a stunning Gulf Ocean view.
Exquisite hospitality is our intention. Private guest suites feature air conditioning, queen-sized beds, private bathrooms, and fresh, hotel-quality fine linens. Bathrooms are stocked with locally made, organic, essential oil-infused toiletries. Housekeepers attend to the space daily. Certified and experienced massage therapists are present for optional bodywork and spa treatments, featuring organic products. Guests enjoy a visit to a beautiful, spacious nearby beach during one of the integration days. Our creative arts integration station offers a variety of supplies to express the totality of the medicine experience.
We hold Bwiti Iboga ceremonies in a large, spacious, beautiful circular temple space. In the center stands the Bwiti altar, filled with sacred items from our teachers for calling in ancestors and benevolent spirits, healing, spiritual protection, and cleansing the space as needed. We tend to the energetic hygiene and vibrations of this sacred space with care and intentionality. The temple is cleaned daily; ceremony beds and linens are always immaculate. The temple is fully screened and surrounded by citronella torches to avoid mosquitoes and other insects.
Meet the founders of SoulCentro, drawn together by deep love and commitment to the Iboga medicine and the Bwiti tradition
The Iboga plant medicine retreat experience is profoundly supported by our gourmet, fresh, farm-to-table, international spa cuisine. Meals are prepared daily by world-class chefs according to individual dietary preferences. Most of our fresh produce is local and organic, as much as possible. Fresh organic juices and smoothies are served daily. Local artisan fresh goat cheeses and yoghurts are often options. Local medicinal honey is a staple offering. Fresh, organic coconut water is available twice daily for natural electrolyte support. Local water is famously pure and fresh, served filtered and mineralized.
The day after each medicine ceremony, when the body and mind are fresh from planet earth's most thorough detoxification, guests are served coconut water, teas, fresh tropical fruit, and a choice of fresh vegan broth or pasture-raised, grass fed, seasoned bone broth. In this way, gut health can be reestablished after the deep cleanse.
The entire retreat is free of gluten, cane sugar, and cow dairy.
*We cannot guarantee that all products are 100% free of allergen cross contamination in manufacturing or production.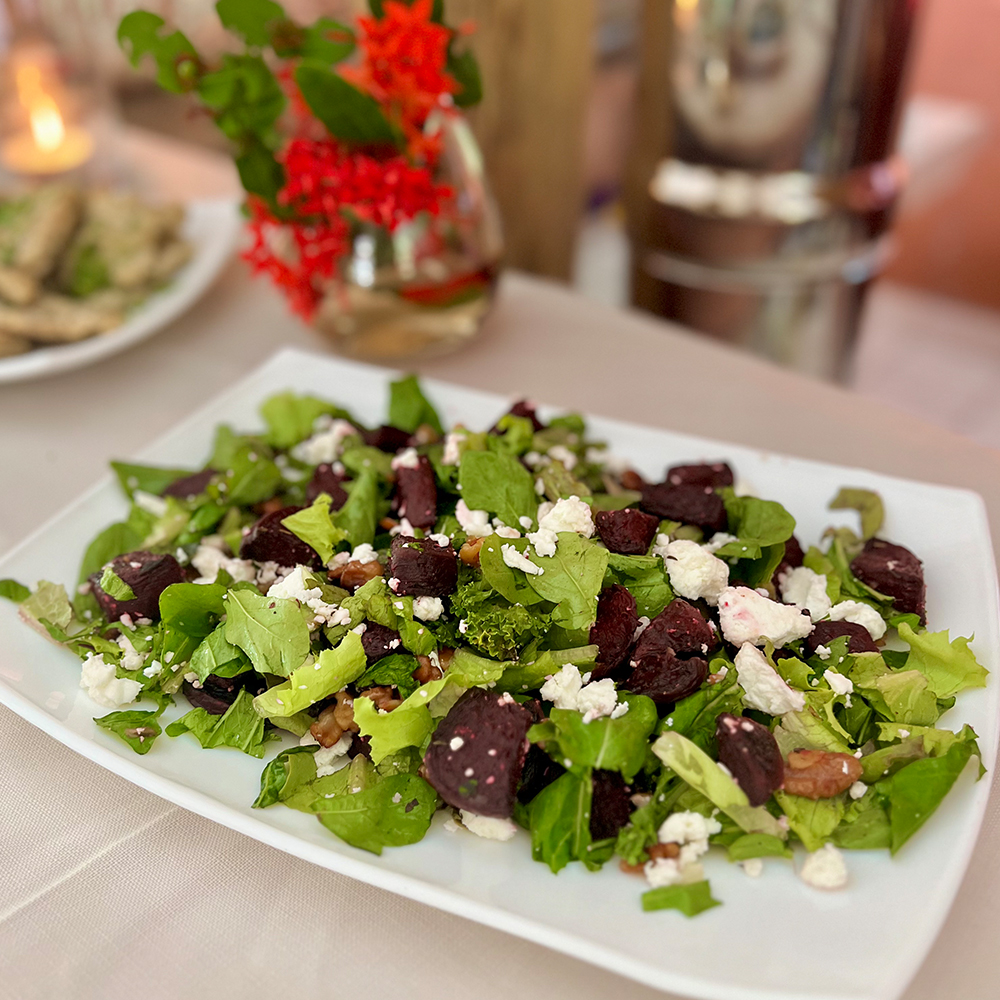 SPIRITUAL SHOWER
Offered between the two ceremonies is the Bwiti spiritual shower, a traditional ritual to cleanse the past and call in the new blessings, with traditional invocation songs. Many nature spirits are invited to support.
Held by Makossa Leaves, a sweet, cleansing, soothing, benevolent plant. Amazingly, the very same species of this important ingredient in the spiritual shower grows in both Gabon and Costa Rica.
Lush, nurturing blossoms, and fragrant cleansing herbs are all charged with prayers. It's not enough to "use" a plant in the sense of using its material body alone. No. We offer respect to the plant spirit and then request very specific kinds of help.
Honey is drizzled to bring sweetness. Honey bees and the holy root medicine are ancient allies to help pollinate life on earth.
Finally, sacred pigments adorn the bundles, all the way from the motherland. These are ceremonial treasures, infused with codes to thrive & celebrate the gift of life.
Burdens are washed away. Sweet spirits are attracted.
When the ritual is complete, the guest is advised to never look back, as in life. Medicine knows one direction: forward. We always remember, but we no longer live in the past. With this fresh vision, we can take root in the present moment.
"I feel truly transformed having been to Soul Centro.
It remains ineffable and Iboga remains with me in spirit after 8 months! I could not have had any better guides to consciousness than the humans and spirits I met at Soul Centro. Forever in gratitude!"
JACQUELINE
"I had a life changing experience at SoulCentro.
For such a profound but intense experience, the entire team was perfect for each of their roles. Couldn't have asked for a better care team, each knowledgeable and an expert in their field. I felt safe the entire time. The retreat was recommended to me by two friends, one who has known Elizabeth for over a decade. After my own experience, I'd highly recommend it too."
AMY
"My experience at SoulCentro was absolutely beyond words.
There truly is no other retreat center that I could find after all my research that holds the integrity of these ancient Bwiti traditions and practices like Chor and Elizabeth. They have devoted their entire lives to training with this master plant medicine iboga, to be in service to others finding healing and connecting them to the wisdom of their ancestors.
I felt completely taken care of and safe to allow myself to fully surrender and trust the medicine."
HATHORSMIRROR
"I felt held, I felt heard and I felt nourished from body to soul!
I couldn't have imagined the profound stillness and inner connection that this sacred medicine gave me. Being my first plant medicine ceremony, of course I had fears & doubts arise during my time. But Chor, Elizabeth and the entire team at SoulCentro created the safest container for all, ensuring we could fully surrender to the experience in peace.
Thank you SoulCentro! I feel truly blessed to have had this experience."
TONI
"My visit to SoulCentro was an important moment in my life,
the meaning of which is still unfolding for me. Chor, Elizabeth, and the whole team hold the space like family and with a nice balance of masculine and feminine energy. Also the property vibrates with connection to the jungle. Oh and the food is delicious (and healthy!). I'm very grateful for my time here."
BENJAMIN
"I am so profoundly touched
by the amazing care and support I received from the SoulCentro team. The care began weeks before the actual retreat and extended well afterwards- I felt so safe and supported throughout the whole experience.
I feel so much appreciation for the deep care and respectful work these people are offering and their integrity in respecting and honoring the Bwiti tradition and their elders in Gabon, Africa.
MARY
"I left SoulCentro with a new perspective on life.
Six weeks later and I am still walking around with a smile on my face—and I've been able to make real changes in my life to bring in joy and light.
After struggling with depression for many years and working with several other plants many times, a friend recommended working with Iboga to actually get at the root of it. I am so glad I did the work. It is unlike any other experience you may have had—and I was fully supported by the SoulCentro team."
CAM
$4400 USD PER PERSON + TAX
7 night / 2 ceremony retreat
$6400 USD PER PERSON + TAX
for 10 night / 3 ceremony retreat
$200 USD PER PERSON DISCOUNT FOR SHARED ROOM
*For couples / friends / family members traveling together only
50% DEPOSIT TO RESERVE SPACE
ALL INCLUSIVE EXCEPT FOR FLIGHTS & OPTIONAL ARRIVAL/DEPATURE HOTEL
LIR - LIBERIA AIRPORT in Costa Rica
*DO NOT SCHEDULE FLIGHTS PRIOR TO CONSULTATION & COMPLETED REGISTRATION
Apply to join us on an upcoming retreat. Be the first to know about special offerings.